Body Composition Analysis
---
The complete analysis of body composition - like the measurement of RMR - about specific medical device, (details of which are listed below on the link "FITMATE"), high-precision, approved by the European Union.
It gives information about mass index - fat body mass and muscle tissue, fluid retention and ideal weight.
The multiband body composition analyzer InBody720 of Biospace is the leading body composition analyzer for specialists and researchers accurately 0.984 compared with DEXA and repeatability 99%.
Makes dozens analyzes, the following: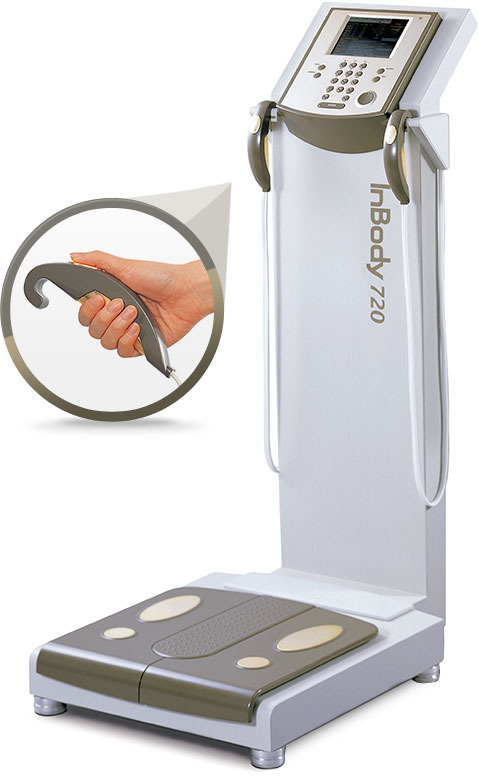 • Body Fat Percentage.
• Mass Skeletal Muscle.
• Partial Fluid Distribution.
• Swelling ECF / TBF & ECW / TBW.
• Basal Metabolic Rate (BMR).
• Visceral Fat.
• Intracellular Fluids / extracellular fluids.
• Proteins, Metals / off bone.
• Fat body mass.
• Soft lean mass.
• Not Fat.
• Weight.
• Body Mass Index (BMI).
• Ratio waist / hip (WHR).
• Partial Fluid Distribution.
• Segmental Soft Lean Mass.
• Ratio Departmental Soft Lean Mass.
• Departmental swelling ECF / TBF & ECW / TBW.
• Graph Development for children under 18 years.
• Nutritional Assessment (proteins, minerals, fat).
• Physical Balance.
• Physical Force.
• Health Status Diagnosis.
• Target Weight, Weight Control, Fat Control.
• Muscle Mass Control.
• Degree Fitness.
• Degree of Obesity.
• Bone Strength in Metals (BMC).
• Cell Mass Body.
• Region Arm (AC).
• Region Muscle Arm (AMC).
• Body Composition History (results of 10 measurements).
• Conductivity (Z, Xc) / Frequency every part of the body.
- Translated with Google translate
---

Nutrition and Clinical Diet Centre

Clinical Nutritionist: Amourgi Eirini - Argostoli Kefalonia
Tel.: 2671024093